Description

Do you know the value of your antique swords and edged weapons?
Do you need to know their value for insurance purposes?
Do you need them to be identified?
I can provide you with a full appraisal certificate e-mailed to you quickly and efficiently.
This will contain a full description of your item and a current market value - please see below for an example of the certificate.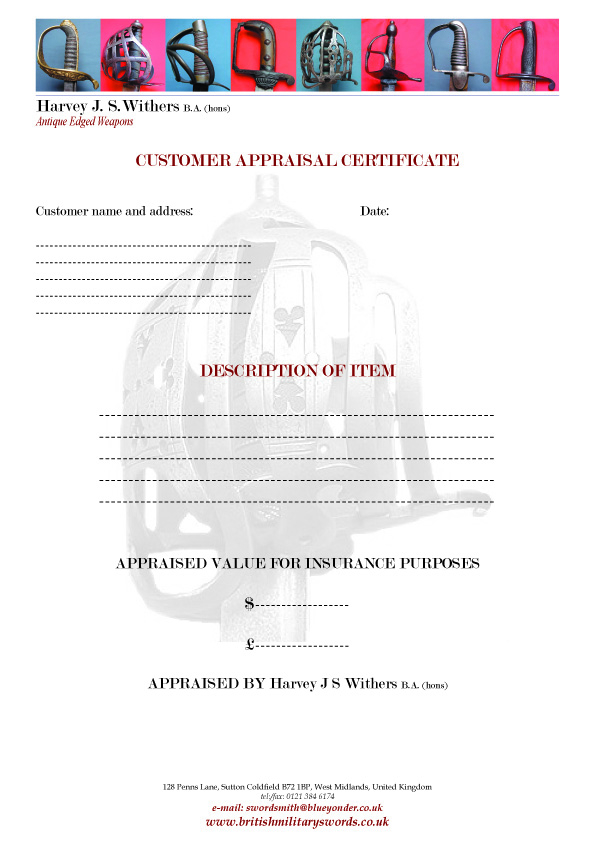 If you have multiple items to be appraised, please contact me at sales@militariahub.com and I can quote you a price for a combined appraisal.
COST: £10.95
What do I need from you?
In order that I can have the best opportunity to accurately appraise your item(s), I will need a selection of photographs e-mailed to me at sales@militariahub.com.
The better the photographs the better the appraisal
Please see below some examples of the kind of shots that I require in order to provide an accurate appraisal. Use the highest quality setting on your camera and photograph in plenty of natural light.
If there are any particular markings to the sword e.g. maker marks or inspection/regimental marks please take shots of those and if the blade is etched or engraved with decoration (see below) please include shots of those as well.

I look forward to looking at your antique swords and edged weapons and providing a professional appraisal!