£12.95
British Military Swords 1786-1912 – Updated Price Guide NOW AVAILABLE ON USB STICK. Full colour price guide with over 1500 photographs and illustrations.
In stock
Description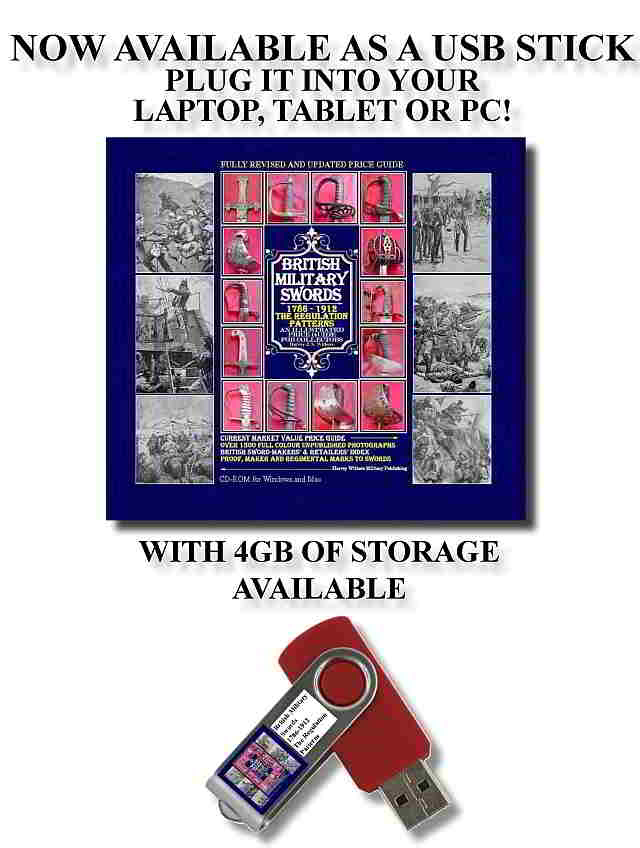 British Military Swords - 1786-1912
The Regulation Patterns
An Illustrated Price Guide for Collectors
Fully Updated Version
by
Harvey J S Withers
Published by Harvey Withers Military Publishing
Fully updated PDF for both Windows and Mac
BOOK SIZE IS JUST UNDER 90MB LEAVING YOU OVER
4000MB's STORAGE SPACE FREE!!
Over 1500 full colour photographs and illustrations
See the sample pages below!
Containing over 1500 unpublished full colour photographs and illustrations, it is the first full colour price guide for collectors of British regulation military swords. This book contains detailed photographs of all the British regulation sword patterns from 1786 - 1912.
Includes:
Fully Updated Price Guide
Infantry Swords
Cavalry Swords
Scottish Swords
General Officers' Swords
Naval Swords
Departmental Swords
British Sword Maker/Retailer Index
Close-up shots of Blade & Hilt
Sword Markings
Wilkinson Sword Serial Number Index
Sword Knots
Wilkinson Sword serial number date index
The book also contains a short history of the Wilkinson Company, including a detailed examination of how a Wilkinson Sword was manufactured. The Wilkinson Sword serial number date index from 1854 has also been reproduced to enable collectors to accurately date their Wilkinson swords.
Collecting Antique British Military Swords Today
In addition, there are illustrated excerpts from the 1796 Sword Exercise for Cavalry by Napoleonic British cavalry officer, Gaspard Le Marchant, as well as comprehensive sections on collecting antique swords today, the care and preservation of antique swords and a comprehensive bibliography.
The Foreword is written by the renowned edged weapons author, Frederick Wilkinson.
The book contains 176 pages.
Shipping
FREE WORLDWIDE SHIPPING.
READ THE REVIEWS!
"It is by far and away the best reference guide to Victorian era British swords and is highly recommended"
Stuart Mowbray, Man at Arms magazine.
"Well researched, well written and well illustrated, this book is an essential addition for the sword collector"
Gun Mart magazine.
"Contains plenty of information……a valuable addition to our library"
National Army Museum, London.
"….is a very worthwhile addition to any sword collectors bookshelf"
The Armourer magazine.
SEE THE SAMPLE PAGES BELOW: