£5.95
eBook Download of British Military Swords 1786 to 1912 – Fully Updated. A full colour 176 page pdf price guide for collectors of British military swords.
Description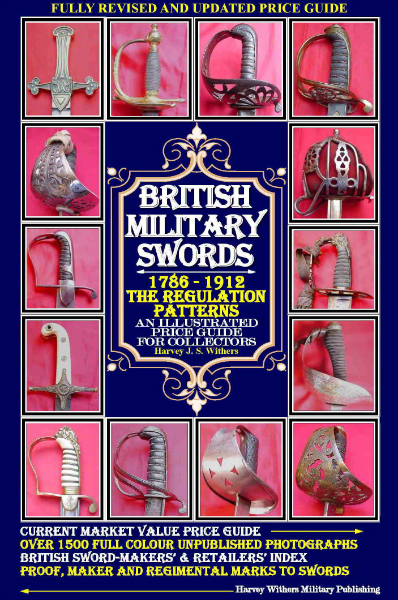 FULL COLOUR
BRITISH MILITARY SWORDS
PRICE GUIDE
VIA eBOOK DOWNLOAD
DIRECT TO YOUR COMPUTER
PRICE: £5.95
You can open this eBook on any computer that has a PDF reader
Compatible with your PC, Mac, Netbook, Notebook or Tablet
If you don't have a PDF reader then you can get one completely free here: https://get.adobe.com/reader/
Over 1500 unpublished full colour photographs of British Military Swords
If you collect British military swords you will definitely want this eBook download of British Military Swords 1786-1912 as it contains over 1500 unpublished full colour photographs and illustrations with highly detailed photographs of all the British regulation sword patterns from 1786 - 1912.
What do you get?
You get the fully updated PDF with over 1500 highly detailed and full colour photographs and illustrations inside.
The download includes:
Fully Updated Price Guide
Infantry Swords
Cavalry Swords
Scottish Swords
General Officers' Swords
Naval Swords
Departmental Swords
British Sword Maker/Retailer Index
Close-up shots of Blade & Hilt
Sword Markings
Wilkinson Sword Serial Number Index
Sword Knots
The eBook download also contains a short history of the Wilkinson Sword Company, including a detailed examination of how a Wilkinson Sword was manufactured. The Wilkinson Sword serial number date index from 1854 has also been reproduced to enable collectors to accurately date their Wilkinson swords.
Care and Preservation of Antique Swords
In addition, there are illustrated excerpts from the 1796 Sword Exercise for Cavalry by Napoleonic British cavalry officer, Gaspard Le Marchant, as well as comprehensive sections on collecting antique swords today, the care and preservation of antique swords and a comprehensive bibliography.
The Foreword is written by the renowned edged weapons author, Frederick Wilkinson.
British Military Swords eBook also available on CD-ROM & USB Stick - please click HERE.
SEE THE SAMPLE PAGES BELOW: