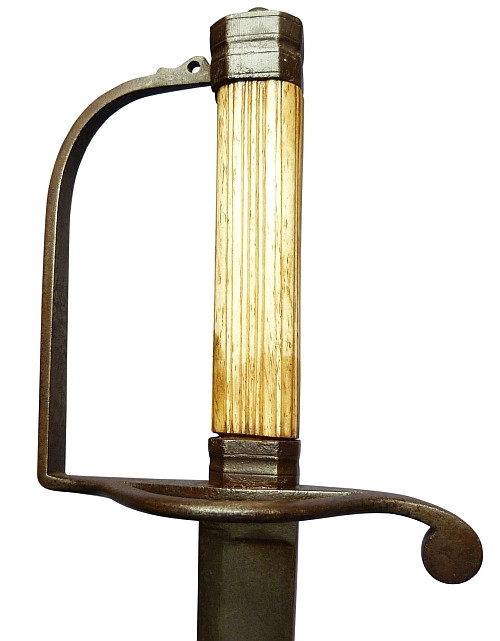 This pattern of sword was adopted soon after the official abolition of the Officer's Spontoon, or half pike, which had become little more than a symbol of authority in the field of battle, rather than an effective combat weapon. King George III approved the introduction of a straight bladed, single fullered sword, and early 1786 Pattern spadroon-type versions are to be found with a straight, beaded knucklebow, reeded ivory grip and cushion, vase or urn-shaped pommels (figure 1.).  This was soon replaced by a double shell guard.  It is this pattern of sword that is more commonly encountered.  Early examples of the 1786 Pattern (figure 4.) have a rigid double shell guard that was superceded in 1796 for one that had a folding guard (figure 3.).  This adaptation enabled the officer to avoid fraying his uniform.  An NCO pattern (figure 2.) is also found with plain brass hilt, blade and scabbard mounts.  Hilt and scabbard mounts were plain brass.  It is much rarer than the officer's sword as they were normally discarded when unserviceable.
The 1796 Pattern was the mainstay of the British Infantry Officer for over 25 years and the design influenced many other countries, most notably the United States, where the Model 1840 non-commissioned officer's sword bears a striking resemblance.    Its obvious defects and fighting inadequacy were no doubt the cause of many unnecessary deaths amongst British officers.  Protection to the hand was minimal, and the blade was rather thin and flimsy.
It is not a scarce sword for the collector to acquire but most examples are in poor condition due to the fragility of the folding guard. Worn blades, and the tendency for the quillon to snap off (look out for poorly re-attached quillons) are also common.  This is made worse by the frequent absence of the gilt brass and leather scabbard which easily perished both in the field and after years of careless storage.   Swords with substantial blue and gilt decoration remaining to the blade and complete with original scabbard, can command very high prices.  Good examples are becoming extremely difficult to locate in the market.  Many examples are marked "JJ Runkel" to the blade edge.  John Runkel had an office in London and was a major importer of German blades for the British Army during the Napoleonic Wars.
© Article by Harvey J S Withers – militariahub.com.  Not to be reproduced without prior agreement.