SPECIFICATIONS:
Hilt: Steel/Wrought iron.
Scabbard: Steel or wrought iron – also steel/iron with leather and fishskin panels/black leather/steel mounts.
Blade: Straight or slightly curved blades.
Blade length: approx. 33"(light cavalry) – 37" (heavy cavalry).
Grip: fishskin or leather – usually bound with either silver, brass or copper twistwire.
The 1788 Pattern Cavalry Officers' and Troopers' Swords (in both the heavy and light patterns) were the first officially regulated British cavalry swords.  It must be remembered though, that the interpretation then of what was meant by "regulation" was rather loose, and the styles shown are what previous authors have identified as being most likely to be of 1788 form.  The light cavalry versions feature a stirrup hilt and a broad, slightly curved blade.
To distinguish between a Light Cavalry Officer's Sword and the Trooper's version, we can say in general terms that the officer's sword tends to have a decorated blade and ferrule to the bottom of the grip. The overall standard of finish is normally better, although there are definite exceptions to this rule which can make identification quite difficult.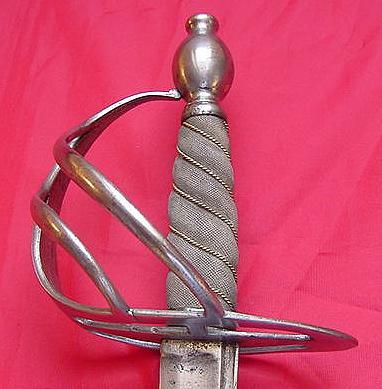 The differentiation between officer and trooper in the heavy version is more clearer.  The trooper's half basket hilt is typically plain, with the grip covered in leather, wood, fishskin and brass wire.  The officer's sword normally has a grip covered in fishskin and silver wire, with a more elaborately wrought hilt and pommel.  The 1788 Pattern heavy cavalry sword has a broad, straight, single fullered blade.  A decorated blade is also an indication of officer status although I have seen plain bladed officers' swords with just a makers name (normally Gill or Runkel) to the blade forte.
Gill seem to have had quite a monopoly on the production of these swords as they frequently turn up marked with his name to both the blade and scabbard.  Woolley and Co. is also a common maker whose name features on these blades.  1788 Pattern swords are fairly difficult to locate in good condition and doubly so with the original scabbard.  Grip damage and worn blades is usual.  Look out for the versions with steel and leather/fishskin panelled scabbards.  They were also manufactured in all-steel or wrought iron.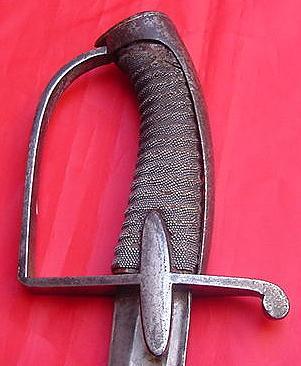 FINDING EXAMPLES IN THE MARKET TODAY
This is an extremely scarce sword and few example turn up in the market.  When they do be prepared to spend a reasonable amount of money and only buy those in the best condition as many are in poor or worn condition.  It is not known to have been copied to date.
Not to be reproduced without prior agreement.
DO YOU COLLECT ANTIQUE SWORDS?
DO YOU WANT TO KNOW THE VALUE OF YOUR SWORDS?
IF SO, YOU NEED TO PURCHASE THESE FULL COLOUR BOOKS!!
CLICK IMAGES TO BUY YOUR SWORD BOOKS!!