SPECIFICATIONS:
Hilt: Steel/Nickel-plated.
Blade: Of Wilkinson, single-fullered type and double-edged towards end of blade.
Scabbard: Steel/Nickel-plated.
Blade length: approx. 31"- 32".
Grip: fishskin – usually bound with either silver, brass or copper twistwire.
The British 1895 Pattern Infantry Officer's sword was a considerable improvement on previous patterns in that the design afforded much better protection to the wearer's hand through its new three-quarter basket hilt (figures 1. and 2.).  Combined with the introduction of a more robust blade in 1892, it boasted a wicked thrusting point, and was soon proven in combat to be an effective infantry weapon.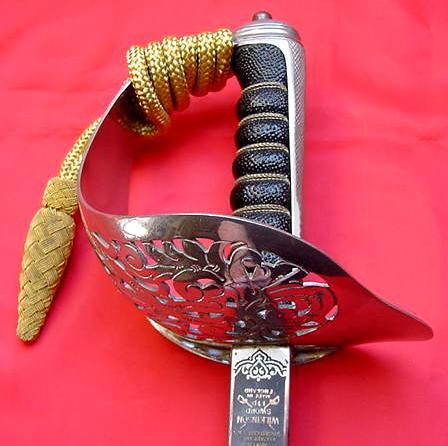 One alteration made in 1897, was the turning down of the inner guard to prevent fraying of the uniform (figure 3.).  The South African War of 1899 also heralded the introduction of a universal brown leather field service scabbard (nickel plated steel was used for dress).  This pattern of sword is still carried by serving British Army Infantry Officers.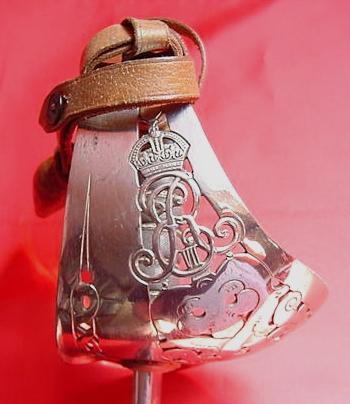 There are a considerable number of these swords available within the collecting market.  During the First World War, Wilkinson alone produced over 10,500 1897 Pattern swords, so it is advisable to purchase one in exceptional condition.  I have found that most examples post-1945 are not of the same quality (particularly the blade etching) as their predecessors.
FINDING EXAMPLES IN THE MARKET TODAY
The 1897 Pattern is currently being copied in India and Pakistan and they are common in the market and frequently sold as original both via the general market and auction houses so beware – they are easily spotted due to the very poor blade etching, pig-skin and thin, brass wire wrapped grip.
© Article by Harvey J S Withers – militariahub.com
Not to be reproduced without prior agreement.
DO YOU COLLECT ANTIQUE SWORDS?
DO YOU WANT TO KNOW THE VALUE OF YOUR SWORDS?
IF SO, YOU NEED TO PURCHASE THESE FULL COLOUR BOOKS!!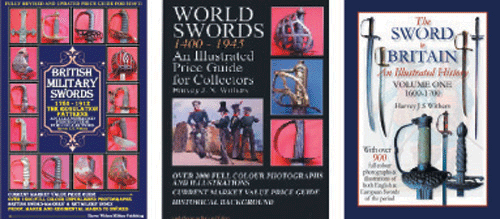 CLICK IMAGES TO BUY YOUR SWORD BOOKS!!