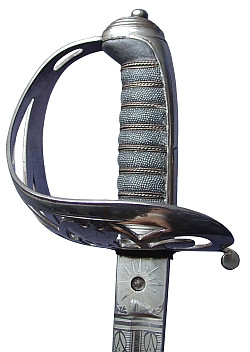 Originally raised as the King's Royal Rifle Corps in 1755, the Rifle Brigade as we know it was formed in 1800. Initially, officers carried a lighter version of the 1796 Light Cavalry Sword and later adopted the 1803 Infantry Officer's sword, with a strung bugle motif placed on the knucklebow. Officers were noted for their elite individuality, both in uniform and tactics, and it is no wonder that they eventually gained their own distinctive pattern of sword. The 1827 Pattern Rifle Regiment Sword is defined by an all steel hilt and the replacement of the usual royal cypher with a strung bugle in cartouche. This motif symbolised the earlier use of the bugle to control rifle troops rather than the drum favoured by the Infantry of the Line. Later in the Victorian era, nickel plated examples superseded the original steel hilt.
This pattern of sword is still carried by Rifle Officers in the British Army. Victorian swords are invariably decorated with the names of regional volunteer rifle regiments. This is one of the most common of British pattern swords and frequently seen in the market. Examples appear frequently in country auctions and might indicate that many of the volunteer militia swords strayed no further than the owner's town or village boundary. The regular army were rather contemptuous in their opinion of these volunteer regiments and viewed them, perhaps unkindly, as weekend soldiers. Contemporary cartoons also portrayed the officers as bloated buffoons, more interested in impressing the ladies with their dashing uniforms, than the serious business of military manoeuvres. This is a crude caricature. Most volunteers took their duties very seriously.
---
© Article by Harvey J S Withers – militariahub.com. Not to be reproduced without prior agreement.