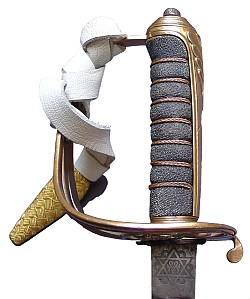 When compared with the 1822 Pattern, the main difference concerns the absence of a folding guard This change to the hilt was made in the Regulations of 1854. The "Wilkinson" 1845 Pattern single-fullered blade is the most common type to be found with this hilt.  The 1854 Pattern had a very long service life and many examples can be found in the market.   Special mention should be made concerning some excellent 1854 Pattern swords manufactured by Wilkinson.  The quality of these is very apparent, especially in the sturdy hilt construction and the crisp, deep etching to thick, wide blades.  A good heavy duty scabbard was also supplied in both steel and leather on steel.  These swords were made for proper service use and would have undergone strenuous testing at the Wilkinson factory.
This sword also has a picquet weight equivalent carried during social engagements. There were never official regulations for the carrying of these lightweight versions, but they are very common and so must have been accepted unofficially by the authorities.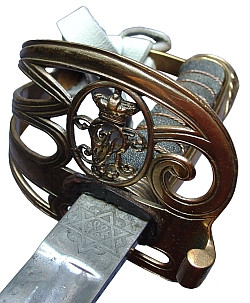 © Article by Harvey J S Withers – militariahub.com. 
Not to be reproduced without prior agreement.