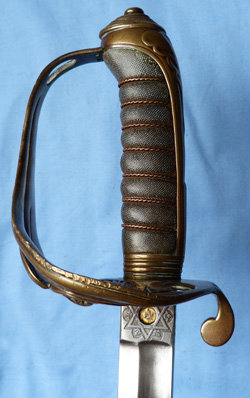 An excellent British Named 1845 Pattern Infantry Officer's Wilkinson Sword with a typical gilt brass "Gothic Hilt" and royal "VR" (Queen Victoria - 1837-1901) cypher to the pierced hilt.  The grip is bound with all its original fishskin and copper twistwire.  The blade has the owner's monogram etched near the forte - the sword was owned by H W Dent of the Queens Regiment, West Surreys.  The sword was sold to him in December 1872 by Wilkinson Sword and the overall high quality of manufacture is typical of Wilkinson swords of the 19th Century.
Blade well etched with foliage and royal cypher
The blade is very well etched with foliage and there is a royal crown and cypher to the centre.  Condition of the blade is excellent and it retains all original polish.  The sword comes complete with a fine brass service scabbard.  A good sword requiring more research.  Blade length is 32.5 inches (38 inches overall).
GOT ANY QUESTIONS?  PLEASE FEEL FREE TO E-MAIL ME AT: sales@militariahub.com
SOLD