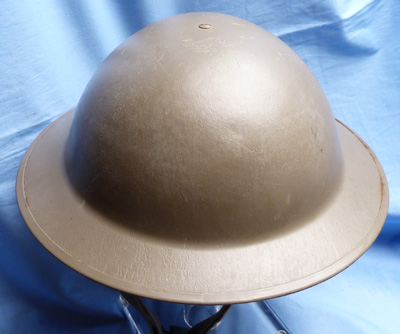 An excellent and original British Army WW2 Steel helmet.  This looks to be a private purchase helmet and is of superior quality - probably for an officer.  All the original khaki paintwork remains and comes complete with liner.  The liner is in very good shape and shows virtually no wear - I doubt whether this has ever been worn or issued.  Not sure which mark or pattern it is but is likely to be early war and probably kept at home in the United Kingdom and never carried abroad - wonder whether it could even be Home Guard issue to an officer.  Have been told that this could also be a post-war Dutch issue copy of this helmet type.
Maker stamped to inside of the helmet
With maker's stamp inside helmet.  Difficult to read but seems to "R.D.M.L. Ltd".  There is also an issue(?) number stamped to the inside rim of the helmet.  The helmet also retains a green canvas chinstrap with brass mounts.  Hard to find a better example of an original British military helmet for the collector of British WW2 militaria.
GOT ANY QUESTIONS?  PLEASE FEEL FREE TO E-MAIL ME AT: sales@militariahub.com
SOLD