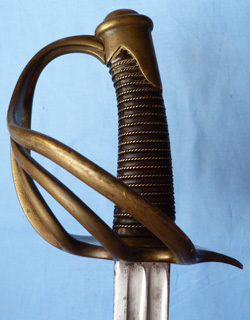 A terrific example of a French Model 1854 Heavy Cavalry Trooper's Sword.  This sword is a very impressive piece and comprises a large four-bar brass hilt and leather and brass grip with brass twistwire.  The blade is quite substantial and of the same style as the blades found on Napoleonic cuirassier swords.  It is dated to June 1874 and indicates that it is a Model 1854 and manufactured at the French government sword manufactory at Chateullerault.
Matching numbers to hilt and scabbard
Condition of the sword is excellent with all original leather and twistwire still remaining to the grip.  The blade is also very clean with no pitting or damage.  Both the hilt and scabbard have matching numbers which is quite rare as most of these swords tend to have mis-matched scabbards.  These swords have now become quite scarce in the marketplace and especially so in this condition and with a matching scabbard - hard to better this one.  Blade length of the sword is 36 inches (42 inches overall).
GOT ANY QUESTIONS?  PLEASE FEEL FREE TO E-MAIL ME AT: sales@militariahub.com
SOLD