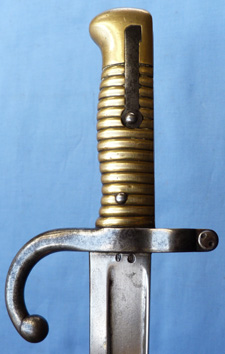 A good example of the French Model 1866 Yataghan Sword Bayonet and Scabbard. This is a 19th Century French infantry soldier's sword bayonet for the Chassepot bayonet.  With cast brass ribbed grip and a distinctive yataghan blade.  There are maker's and inspector's stamps to the blade forte.  The bayonet is of heavy and robust construction and when attached to the rifle, would have made the combination particularly unwieldy and uncomfortable.
Complete with scabbard
It is dated to the blade on the spine and also has impressed maker marks to the blade forte.  Complete with steel scabbard.  Blade length is 23 inches (27.5 inches overall).
GOT ANY QUESTIONS?  PLEASE FEEL FREE TO E-MAIL ME AT: sales@militariahub.com
SOLD