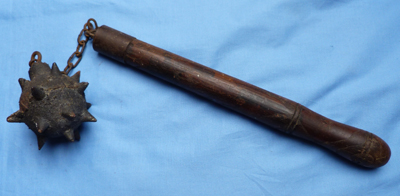 An original Imperial German WW1 Trench Fighting Mace Flail.  This gruesome weapon was used during the latter stages of the First World War and was very effective during trench raids.  The mace comprises a very heavy cast iron spiked ball which is attached by a chain to the turned wooden handle.   Trench raiding was a major feature of trench warfare during World War I.   The raids took the form of  small scale surprise attacks on enemy positions.
Attacking enemy trenches
Most raids took place at night by small teams of men who usually  blacked up their faces and then entered No-Mans Land and headed for the enemy's trenches after cutting through the barbed wire. Although pistols and rifles would have been carried, the need for quiet was paramount, in order that the attacker could work his way along the enemy trench and so not alert the enemy further along the trench system.  This mace and similar weapons such as clubs and knives were effective in this role.  The mace is in good overall condition.  Length is 23 inches.
GOT ANY QUESTIONS?  PLEASE FEEL FREE TO E-MAIL ME AT: sales@militariahub.com
SOLD