The Schiavona Sword – A Guide for Collectors
The Schiavona sword has a most distinctive profile, exhibiting a cage-like basket hilt and unique "cats-head" pommel. For the collector, there are many subtle varieties of hilt and pommel styles.
Historical Background
The origin of the schiavona can be traced back to the swords carried by Slavonic mercenaries from Eastern Europe during the fifteenth and sixteenth centuries. These troops were mainly located in the Balkan or Dalmation region and vicariously employed by both Spain and the Republic of Venice during the sixteenth century.
They gained a fearsome reputation for their rugged fighting spirit. The South German bastard sword is cited as the progenitor of the schiavona, although it is also thought that its distinctive hilt style lends itself to a possible Turkish origin. If we consider that the Dalmation mercenaries came from an area under sustained Ottoman rule, this possibility should not be ruled out.
Venetian Schiavonas
The schiavona is probably better known for its Venetian association. The Council of Tenor, Consiglio dei Dieci, under which the Doge administered the Venetian State during the 1600's, hired many Dalamation mercenaries. A large store of schiavonas is still present in the Armoury of the Doge's Palace, in Venice. Most are stamped with the "CX" mark for the Consiglio dei Dieci. There are different styles of schiavona hilt, but they all exhibit the common feature of having a leaf-shaped guard, and "cat's head" or "katzenkopfknauf" pommel in brass or iron.
Simple and Complex Hilt Baskets
Early pieces are simpler in form with less complex baskets, whereas later schiavonas are usually of higher quality, with the hilt bars cast in one piece. The sword proved very popular with European heavy cavalry during the seventeenth and eighteenth centuries. The long and wide blade proved very effective as a slashing weapon, allowing both cut and thrust. It was the standard cavalry sword for European horseman during this period, although the "mortuary hilt" was more popular in England, being the weapon of choice for most English cavalrymen during the English Civil War.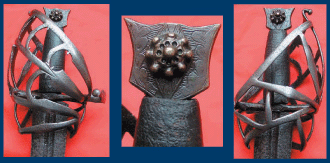 Collecting Schiavonas
Many of the original schiavonas were manufactured in considerable quantities for issue to cavalry troopers and some are of "munition" quality, meaning that they are rather simple and crude in appearance. Despite this fact, there are also superb examples of the sword makers art in the market, comprising finely wrought and intersecting hilt bars and silver and occasionally gold, hilt pommels.
Fake Schiavonas
In recent years a number of fake schiavonas have entered the market been and special care must be taken when purchasing these swords. It is not known where they originate from but I have seen them and they are extremely well made with good forging and detail. What tends to give them away is the patination of the hilt and blade which appears quite uniform and is produced by dropping and trailing acid on the hilt and blade. Look at the blade edge and see if there is any wear or signs of old sharpening. In my experience, the only way ok knowing is by comparing one of these fakes with an original example – once seen, you won't forget the difference in real ageing and faked ageing.
© Collecting Schiavona Swords article by Harvey Withers – militariahub.com
Not to be reproduced without prior agreement.
DO YOU COLLECT ANTIQUE SWORDS?
DO YOU WANT TO KNOW THE VALUE OF YOUR SWORDS?
IF SO, YOU NEED TO PURCHASE THESE FULL COLOUR BOOKS!!
CLICK IMAGES TO BUY YOUR SWORD BOOKS!!