An excellent and unusual 17th Century Military Officer's Cavalry Broadsword.  Most likely carried by an officer and with a very substantial multi-fullered blade.  Deeply stamped to both blade fortes and with traces of original impressed lettering to the top of the blade.  The hilt is quite unusual and features a pierced guard that is reminiscent in style to contemporary Spanish main-gauche daggers - it is possible that this sword had an accompanying main-gauche dagger and the hilt of the broadsword imitated the design.  With wide, hand-wrought crossguard and finials.  These matching swords and daggers were very common during this period.  The use of a fleur-de-lys design might indicate a French connection but could just be a decorative style.  The grip is bound with steel twistwire and turks-heads.
Condition of the sword is excellent
The pommel is quite substantial and would have given this large sword good balance.  The blade is well made with good flexibility - always a sign of quality.  Condition is very good for its great age - no problems that I can see.  Blade length is 38 inches (44 inches overall).
GOT ANY QUESTIONS?  PLEASE FEEL FREE TO E-MAIL ME AT: sales@militariahub.com
Sorry, this item is now SOLD but please view my swords for sale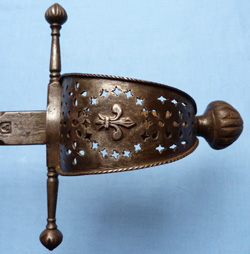 To see more antique European swords for sale click here
DO YOU COLLECT ANTIQUE SWORDS?
DO YOU WANT TO KNOW THE VALUE OF YOUR SWORDS?
IF SO, YOU NEED TO PURCHASE THESE FULL COLOUR BOOKS!!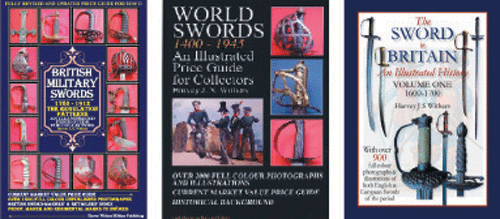 CLICK IMAGES TO BUY YOUR SWORD BOOKS!!