Unusual and scarce late-Victorian embossed silver topped swagger stick to the Sherwood Foresters
Probably for a senior NCO. With worn owner's initials of EP(?) to top of the stick. No silver hallmarks but definitely silver. With regimental badge to the front and embossed swirling foliage decoration. Shaft of laquered light wood.
Condition of the Swagger Stick
In very good overall condition with some wear to the top of the stick.
Specifications of the Swagger Stick
Total length is 36 inches.
GOT ANY QUESTIONS?  PLEASE FEEL FREE TO E-MAIL ME AT: sales@militariahub.com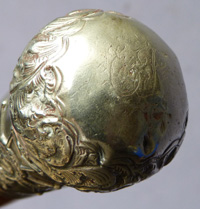 CLICK IMAGES TO BUY YOUR SWORD BOOKS!!