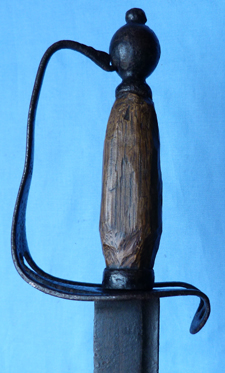 An interesting C.1770 English/American Infantry Hanger Sword.  This sword dates from before or during the early part of the American Revolutionary War (1775-1783) and is a good example of the type of simply made military swords carried during that period.  The blade is marked to Harvey of Birmingham, England.  This was a prolific family of English sword makers who produced many edged weapons for the British Army during the latter years of the 18th Century.
Running fox mark to the blade
The style of hanger is certainly of the type that Harvey produced at this time and comprises an iron slotted hilt with a pronounced and unusual down-turned forward guard.  The grip is made from wood and the pommel is oval-shaped with a rounded pommel button.  The blade is single-fullered and to both sides is the deeply stamped running fox mark of the Harvey family.  I am wondering if this might be an American hilt attached to an English blade (quite common at the time) as the general quality and "look" of the hilt does not have the robustness that we normally attribute to English sword hilts but we do see these hilt types on home manufactured American swords of the time.  Condition of the sword is consistent with its age and manufacture, with some corrosion to the blade  Both blade and hilt are blackened with age and have never been cleaned and there is a slight bend to the blade..  The grip has also seen a lot of wear and use and has an age split.  This is not a pretty sword but one that was made with one purpose in mind and is a great survivor from the period and is full of character.  Blade length is 23 inches (30.5 inches overall).
GOT ANY QUESTIONS?  PLEASE FEEL FREE TO E-MAIL ME AT: sales@militariahub.com
SOLD