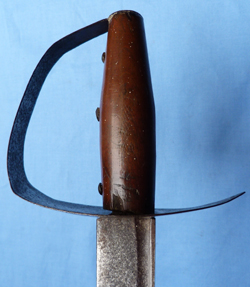 A good and original example of an English C.1790 Naval Seaman's Cutlass.  These early naval cutlasses came in a variety of styles and grades of quality and were sold to the Royal Navy in the years preceding the Napoleonic Wars and also well into the conflict.  It was only in 1804 that a standard pattern of naval cutlass was developed for use by seaman in the Royal Navy.  This particular cutlass comprises a simple sheet iron bowl hilt that has the knuckle guard attached to the pommel in simple fashion.  The grip is made from polished wood and secured with a series of iron rivets.
Running fox mark of James Woolley
The slightly curved blade is deeply impressed with a running fox mark of James Woolley (1785-1825) of Birmingham.  I would guess this is one of his very early cutlasses as the style is very much c.1790 and I wouldn't put it much after that.  Condition of the cutlass is good for its age with some commensurate age wear to the blade.  Both hilt and blade are rock solid with no movement.  Blade length is 27 inches (31 inches overall).
GOT ANY QUESTIONS?  PLEASE FEEL FREE TO E-MAIL ME AT: sales@militariahub.com
SOLD