An original and very rare German 17th Century Executioner's Beheading Sword.  These swords were designed primarily to decapitate criminals and would have been wielded with two hands.  The use of a sword designed specifically for executions became more prominent in the 16th Century.  Previously, decapitations would have utilised a regular longsword. The heyday of the beheading sword was the 17th Century and they were widely used throughout Europe, most notably, Germany.  Interestingly, England tended to stick with the axe the weapon of choice for executioners.  This sword is an excellent example with the typical double-sided and wide blade.
Blade engraved with symbolic designs
It is engraved with symbolic designs, including a gallows and orb of justice.  There is also the running wolf mark of Passau, Solingen, indicating a German-made blade.  The hilt is interesting and comprises short, twisted quillons with rounded finials and a very unusual pommel fashioned from a stylised Turk's head.  The use of a Turk's head was quite common at this time, especially when taking into account the perceived and actual danger from the Ottoman Empire.  At the end of the blade is a short run of teeth which I assume would have been used to saw off any "dangly bits" that hadn't been taken off by the swing of the executioner's blade!  The ribbed wooden grip looks to be original and in fine shape.  Blade length is 34 inches (42 inches overall).  These swords are exceptionally rare and expensive in the market - this example is priced well under the normal market price and would make an excellent investment.
GOT ANY QUESTIONS?  PLEASE FEEL FREE TO E-MAIL ME AT: sales@militariahub.com
Sorry, this item is now SOLD but please view my swords for sale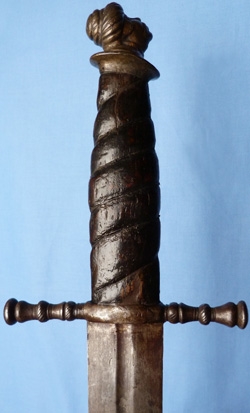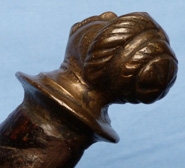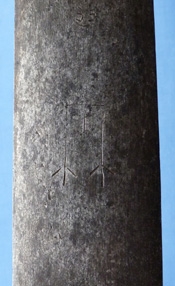 To see more antique European swords for sale click here
DO YOU COLLECT ANTIQUE SWORDS?
DO YOU WANT TO KNOW THE VALUE OF YOUR SWORDS?
IF SO, YOU NEED TO PURCHASE THESE FULL COLOUR BOOKS!!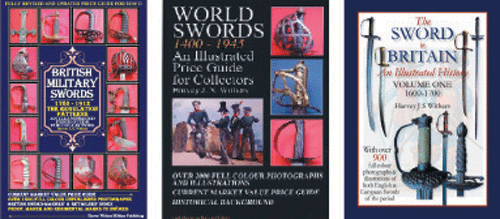 CLICK IMAGES TO BUY YOUR SWORD BOOKS!!