Scarce Gurkha c.WW2 Military Issue Kukri
With well made wood and nickle-banded hilt - brass pommel. The blade is nickle-plated and with some small losses. Complete with original tooled leather and original by-knives.
The kukri (alternatively spelled khukri or khukuri) is a curved Nepalese knife, similar to the machete, used as both a tool and as a weapon. It is a traditional weapon for Nepalese people, and also a weapon of choice/side arm for all Nepalese including those serving in different armies around the world.  The cutting edge is inwardly curved in shape and is the icon of Nepal. It was, and in many cases still is, the basic and traditional utility knife of the Nepalese people. Very effective when used as a weapon, it is a symbolic weapon of the Nepalese Army, and of all Gurkha regiments throughout the world, signifying the courage and valor of the bearer in the battlefield. It is a part of the regimental weaponry and heraldry of the Royal Gurkha Rifles, and is used in many traditional rituals among different ethnic groups of Nepal, including one where the groom has to wear it during the wedding ceremony. It is known to many people as simply the "Gurkha blade" or "Gurkha knife".  The pronunciation "kukri" is of western origin, the Nepalese people to whom this weapon belongs pronounce it as "khukuri."
Condition of the Kukri
Nickle plating to the blade with some losses and service wear to scabbard - otherwise in sound shape.
Specifications of the Kukri
Blade length is 12.5 inches (16 inches overall).
GOT ANY QUESTIONS?  PLEASE FEEL FREE TO E-MAIL ME AT: sales@militariahub.com
Sorry, this item is now SOLD but please view my daggers and knives for sale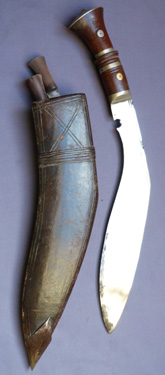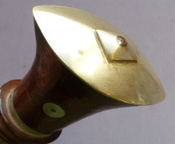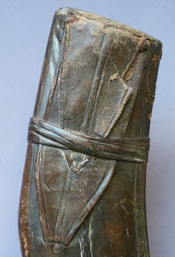 To see more antique Kukris, daggers and knives for sale please click here
DO YOU COLLECT ANTIQUE SWORDS?
DO YOU WANT TO KNOW THE VALUE OF YOUR SWORDS?
IF SO, YOU NEED TO PURCHASE THESE FULL COLOUR BOOKS!!
CLICK IMAGES TO BUY YOUR SWORD BOOKS!!