A super rare Scottish C.1745 Highlander's Fighting Dirk and Scabbard
This is a unique and massive Scottish C.1745 Highlander's Fighting Dirk and Scabbard.  It is 100% completely original and comprises a bog oak carved hilt with iron rivetted pommel.  The blade is of massive proportions.  It comes complete with its original tooled leather and brass mounted scabbard - it is exceptionally rare to find a proper fighting (rather than the more common, later decorative examples) Scottish Highland dirk from this period and especially so with its original scabbard.  It has two slits in the scabbard to allow a baldrick to be inserted and so carried over the shoulder - a typical method of carrying weapons during this period.  The dirk was purchased recently from a family in Kendal, North Britain and had been in their possession for many generations - it is possible that it has been in Kendal since 1745.  During the Jacobite rebellion of 1745, the Highlanders entered Kendal  - this is an except from a history of the rebellion -
"The government forces under Wade and the Duke of Cumberland had not arrived in Macclesfield until the 10th of December, the day the Jacobites had arrived in Wigan. At Macclesfield the duke received intelligence that the Jacobites had left Manchester that day. Leaving Lancaster on the 15th, Charles' army was scarcely out of the town when some of the government horse entered it. The Jacobites formed in order of battle; but the alarm turning out to be false, the army continued its march to Kendal. The British horse followed for two or three miles, and appeared frequently in small parties, but attempted nothing. The Jacobite army entered Kendal that night, where they were met by the Duke of Perth and his party. On his way north, the duke had been attacked in this town by a mob, which he soon dispersed by firing on them; but in the neighbourhood of Penrith he met with a more serious obstruction, having been attacked by a considerable body of militia, both horse and foot, and being vastly outnumbered, was obliged to retreat to Kendal."
This dirk is exactly of a type that would have been carried by a Scottish Highlander at the battle of Culloden in 1746.  Here is a Scottish Highland dirk from the early-mid-18th Century that is totally unique, of museum quality and historical importance.  These early dirks rarely comes onto the market.
Condition of the Dirk
In very fine condition for its great age - small piece missing from handle.
Specifications of the Dirk
Blade length is 13.5 inches (19 inches overall).  The width of the blade is 1.75 inches.
GOT ANY QUESTIONS?  PLEASE FEEL FREE TO E-MAIL ME AT: sales@militariahub.com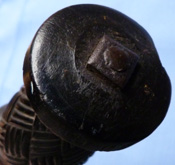 To see more antique Scottish dirks for sale please click

here
DO YOU COLLECT ANTIQUE SWORDS?
DO YOU WANT TO KNOW THE VALUE OF YOUR SWORDS?
IF SO, YOU NEED TO PURCHASE THESE FULL COLOUR BOOKS!!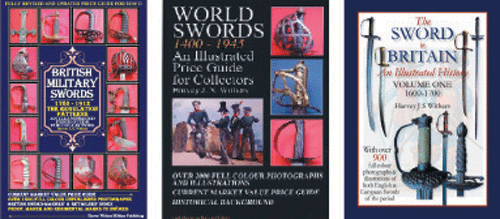 CLICK IMAGES TO BUY YOUR SWORD BOOKS!!