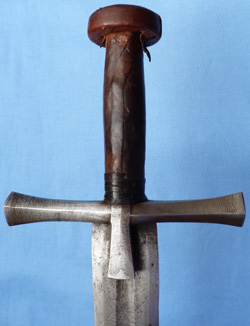 A very good ex-museum example of a Sudanese Late-19th Century Kaskara Sword.  This is a fine quality Kaskara and dates from the time of British General Gordon of Khartoum (1885).  Many of these Kaskaras are of more recent manufacture and many were made for the tourist industry - this is not one of those swords.  It has a massive, double-edged broadsword blade that is engraved with numerous motifs, including a sun, moon, stars, foliage and lion.  These motifs were an intended copy of much earlier European sword blades that had been brought into Africa by earlier European traders in the 17th and 18th centuries.
Museum number on scabbard
The sword also comprises a wooden hilt, wrapped in leather bindings and an iron cruciform crossguard.  The leather scabbard is very impressive and has well executed patterning.  On one of the scabbard flaps there is a museum number written in ink and a later owner's name of Mrs Fitzgerald of Nairobi (Kenya).  Blade length is 36 inches (41.5 inches overall).
GOT ANY QUESTIONS?  PLEASE FEEL FREE TO E-MAIL ME AT: sales@militariahub.com
Sorry, this item is now SOLD but please view my swords for sale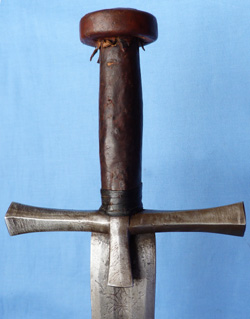 To see more antique non-European swords for sale click here
DO YOU COLLECT ANTIQUE SWORDS?
DO YOU WANT TO KNOW THE VALUE OF YOUR SWORDS?
IF SO, YOU NEED TO PURCHASE THESE FULL COLOUR BOOKS!!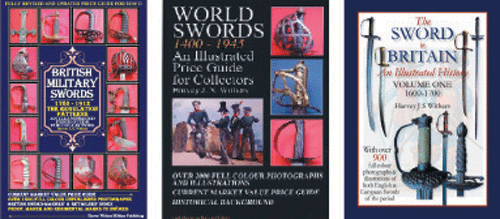 CLICK IMAGES TO BUY YOUR SWORD BOOKS!!