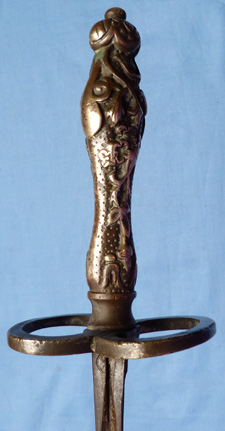 A good and original example of a 19th Century French Fencing Foil Sword with decorative cast brass hilt.  I would guess that this sword probably dates from the end of the 19th Century and possibly into the 20th Century, as the floral motifs to the hilt are very reminiscent of Art Nouveau decoration of the period.  The sword is marked with what look like opposing crescent moons to the blade forte and there is a safety plug to the end of the blade.
Condition of the sword is very good
Most fencing foils of this period and beyond tend to have very plain hilts that are either bound in twistwire or just plain wood but this foil is more at the luxury end of the market and the owner was obviously concerned about both the practical and decorative elements to the sword.  Condition of the sword is very good - the blade has developed a rich and dark age patina.  Length of the blade is 35 inches (41 inches overall).
 GOT ANY QUESTIONS?  PLEASE FEEL FREE TO E-MAIL ME AT: sales@militariahub.com
SOLD