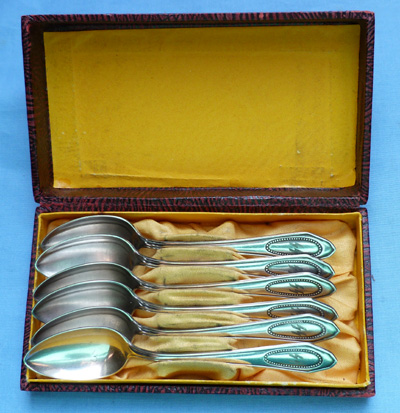 An original and rare German C.WW2 Waffen SS Cased Silver Desert Spoons.  These spoons were actually stamped by wounded Waffen SS soldiers whilst they were recuperating in military hospitals and were part of the "Verwundete program."  German dinnerware manufactures invented a small stamping machine that could be given to hospitals where the wounded soldiers were undergoing treatment.  The spoons were donated by the German jewellers and cutlers to the military hospitals and the soldiers would place the SS runes to the end of each spoon.  Many of these sets were given by soldiers as wedding gifts to other serving soldiers.
Stamping to end of the spoon
The soldiers would use the small stamping machine to apply the tiny SS symbol at the ends of the spoons.  Condition of the spoons is very good with no damage.  Comes complete with its original presentation box and lining.  Length of each spoon is 5.5 inches.
GOT ANY QUESTIONS?  PLEASE FEEL FREE TO E-MAIL ME AT: sales@militariahub.com
SOLD