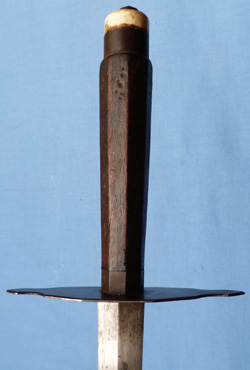 A complete and rarely encountered example of an American C.1780 Naval Officer's Fighting Dirk.   This dirk probably dates from the time of the American Revolutionary War (1775-1783) and is very typical in its design and style.  American naval dirks of the period are usually quite simple and workmanlike in their design and construction and this appears to follow that style.  The hilt grip is made from a faceted and stained wood and topped with a rounded ivory pommel secured by an iron pommel button.  The hilt ferrule is also faceted to follow the pattern of the grip.
Plain blade and triangular in profile
The blade is plain and triangular in profile and almost stiletto in the way that it tapers to a wicked point.  Would have been a highly effective stabbing weapon.  It comes complete with a steel scabbard that has no decoration apart from a faceted ball-type chape.  Condition is excellent for its great age – end of the blade is a little bent but could probably be straightened without too much trouble – have not touched it.  Is a great piece for the collector of American Revolutionary War naval edged weapons.  Blade length is 11.5 inches (16 inches overall).
GOT ANY QUESTIONS?  PLEASE FEEL FREE TO E-MAIL ME AT: sales@militariahub.com
Sorry, this item is now SOLD but please view my daggers and knives for sale


To see more antique knives & daggers for sale please click here
DO YOU COLLECT ANTIQUE SWORDS?
DO YOU WANT TO KNOW THE VALUE OF YOUR SWORDS?
IF SO, YOU NEED TO PURCHASE THESE FULL COLOUR BOOKS!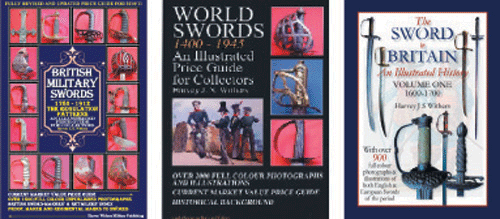 CLICK IMAGES TO BUY YOUR SWORD BOOKS!!