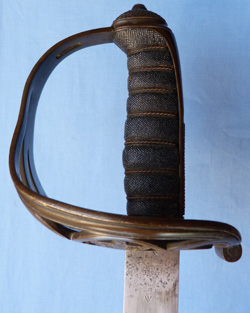 A scarce and rare late-19th Century British 1889 Pattern NCO's Sword - Gloucestershire Regiment.  This is an official British Army military pattern sword that was issued to Sergeants and comprises a brass Gothic hilt with inset and pierced royal cypher of Queen Victoria (1837-1901).  The grip is bound with fishskin and copper twistwire  and all fishskin and twistwire remains.
Maker marked to Mole of Birmingham
The blade is plain and straight, with a single fuller and double-edged towards the point.  It has numerous official issue and re-issue stamps and includes a maker's mark for Mole of Birmingham, a major supplier of military pattern swords to the British Army at this point.  The sword is stamped at the front of the hilt to the Gloucestershire Regiment (GR) and this lettering is repeated on the scabbard throat.  Condition of the sword is very good for its age, with a good, clean blade.  Blade length is 32.5 inches (39 inches overall).
GOT ANY QUESTIONS?  PLEASE FEEL FREE TO E-MAIL ME AT: sales@militariahub.com
SOLD