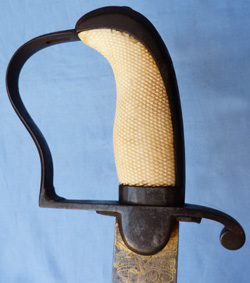 A very fine British Napoleonic Senior Infantry Officer's Blue and Gilt Sword.  This is an interesting sword in that the style is very much in keeping with the 1796 Pattern Cavalry Officer's Sword but the proportions make this definitely an infantry officer's sword.  This pattern of sword was also copied by British infantry officers of the period and there is a actually more variations of style with infantry officers' swords rather than the cavalry officers' swords that tended to be based on the 1796 pattern.  This excellent sword comprises a steel stirrup hilt with finely chequered ivory grip that tended to be associated with senior infantry officers - we see this with the 1803 Pattern Infantry Officer's Sword.  Grip is also in great condition.
Original blue and gilt decoration
The curved, double-edged, flatback blade retains most of the original blue and gilt decoration that has only faded a little commensurate with its age - still plenty of colour.  The decoration is very elaborate and varied and includes the royal coat of arms, royal cypher, myriad scrolling foliage and stands of arms.  The sword comes complete wit its original steel and leather mounted scabbard that is in good condition.  A great addition to any collection of British Napoleonic infantry officers' swords.  Blade length is 28 inches (32 inches overall).
GOT ANY QUESTIONS?  PLEASE FEEL FREE TO E-MAIL ME AT: sales@militariahub.com
SOLD