An original British 1796 Pattern Light Cavalry Trooper's Sword.  This iconic British military sword was carried throughout the Napoleonic Wars and used in such famous battles as Salamanca(1812) and Waterloo (1815).  This sword has obviously seen service and is quite an old warhorse.  It comprises a steel stirrup hilt with a leather bound grip - the leather is original to the grip with some light losses.  The sword has a large and wide hatchet-type blade that has some commensurate age wear and would have been an effective slashing and cutting sword in the field - is very large and impressive in the hand and combined with the scabbard, makes a weighty piece.
Heavy iron scabbard with original hanging rings
The sword comes complete with its original heavy iron scabbard with original hanging rings and both sword and scabbard are a tight fit so some force needed to pull out.  Missing the scabbard throat.  The hilt and scabbard have not been cleaned and it is an untouched piece.  A great addition to any collection of British Napoleonic swords - would make a great display piece.  Blade length is 32.5 inches (37.5 inches overall).
GOT ANY QUESTIONS?  PLEASE FEEL FREE TO E-MAIL ME AT: sales@militariahub.com
SOLD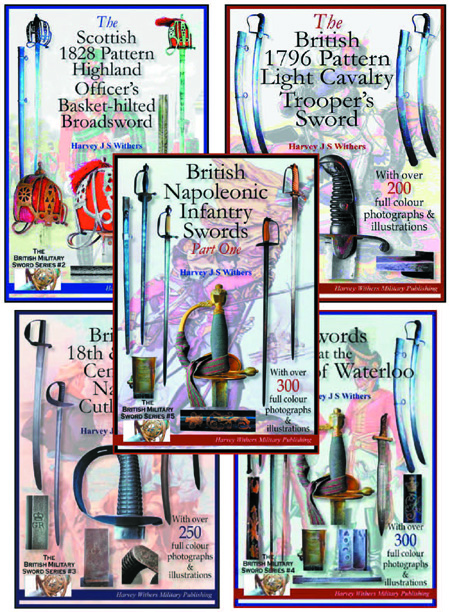 FULL COLOUR SWORD BOOKLETS
FOR THE COLLECTOR