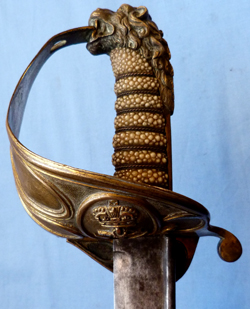 A very impressive and substantial British 1827 Pattern Naval Officer's Sword.  This is one of the largest examples of an 1827 Pattern Naval Officer's Sword that I have come across in many years and this is due to the enormous pipe-backed and quillpoint blade that would have made this a devastating fighting officer's sword.  This is a very early example and probably dates to no later than 1830 as it exhibits a plain blade which is symptomatic of these early pattern blades.  The hilt has a finely detailed lionshead pommel and the grip is made from sharkskin and bound with brass twistwire.
Crown and anchor motif to the hilt
The half basket hilt has an embossed crown and anchor motif and it has a folding guard.  The blade has dark age staining in places commensurate with its age.  Both hilt and blade are rock solid with no movement.  This would make a great display piece for the collector of British naval officers' swords.  Blade length is 30.5 inches (36 inches overall).
GOT ANY QUESTIONS?  PLEASE FEEL FREE TO E-MAIL ME AT: sales@militariahub.com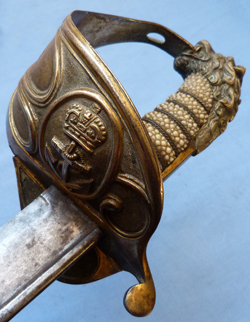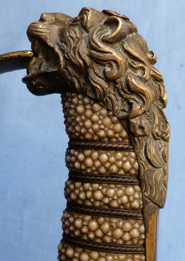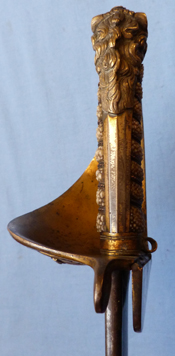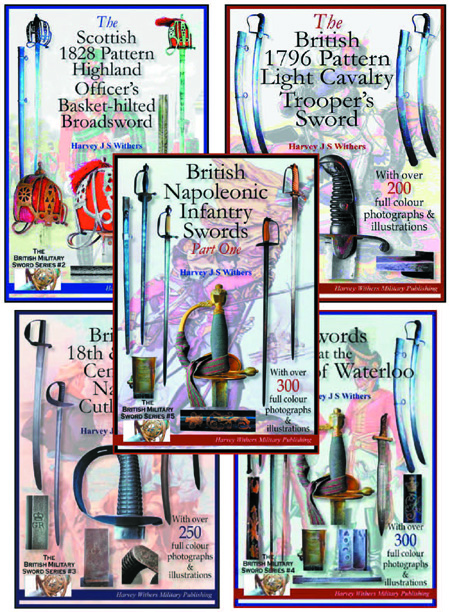 FULL COLOUR SWORD BOOKLETS
FOR THE COLLECTOR