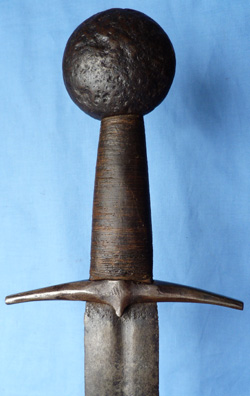 An extremely rare c.1500 European Knightly Sword.  This is of a type that was carried throughout Europe during the early to late Middle Ages and comprises a very large rounded and bulbous pommel.  The crossguard is downward curving with squared finials.  The grip is tightly bound with cord and leather and looks to have been there a considerable period of time as it has congealed and become rock hard.  The blade is broad and with a wide and shallow single fuller that terminates around 7 inches from the blade forte.
Blade double-edged for entire length
The blade is double-edged for its entire length and is in good condition for its great age with some patches of corrosion that is to be expected.  The sword is very light in the hand – a good sign of quality – and the blade is also very springy and well tempered. In the hand of a soldier, this would have been a very effective cutting and slashing weapon.  Blade length is 31 inches (37 inches overall).  Great addition for the collector of early swords and at a reasonable price for this type.  For similar swords please take a look at Oakeshott's, Record of the Medieval Sword.
GOT ANY QUESTIONS?  PLEASE FEEL FREE TO E-MAIL ME AT: sales@militariahub.com
SOLD