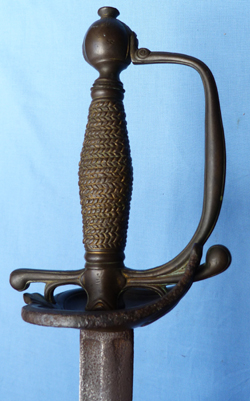 A scarce C.1770 British European Cavalry Officer's Sword.  This is a seldom encountered and unusual late-18th Century cavalry officer's sword that comprises a brass, boat shell hilt and has a grip with simulated brass twistwire.  The pommel is ovoid with a pronounced flattenen tang button.  The blade is double-fullered, plain and double-edged.
Sword style popular in Europe
It is a little difficult to accurately pin down this sword to a particular country as it is of a style that was popular in both England and Europe, most notably France and German states.  There are no maker marks that are visible.  Condition of the sword is good for its age with some wear to the blade, particularly near the point.  Blade length is 31.75 inches (38 inches overall).
GOT ANY QUESTIONS?  PLEASE FEEL FREE TO E-MAIL ME AT: sales@militariahub.com
SOLD