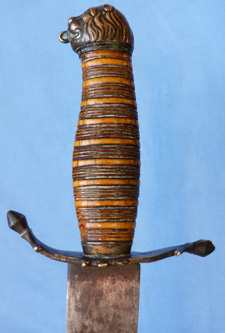 An extremely rare and possibly unique English C.1770's American Rev War Naval Officer's Dirk.  This is the earliest example of a British Royal Navy Officer's fighting dirk that I have come across that is so early.  What indicates its early date from the c.1770's is the distinctive lionshead pommel that is identical in style to English infantry officers' swords of the period, most notably those infantry swords with slotted hilts that are associated with the American Revolutionary War period.  For more information and to see this particular lionshead hilt of the 1770's, please see Neumann's, Swords and Blades of the American Revolution - there are a number of examples of this hilt type in his excellent book.  The dirk has a carved and ribbed ivory grip that has now developed a pleasing orange tone.  The hilt mounts are brass and there would have been a forward guard to the dirk that has long gone and I would say that it was probably loss at the time the dirk was carried as the wear to this area is of great age and smoothness.  The dirk has a plain, unfullered blade which is interesting because it shows that we are dealing with a period pre-blueing and gilding of blades.
Complete with original scabbard
This was to come during the Napoleonic period and not the American Revolutionary period.  We are lucky in having the original leather and brass mounted scabbard.  Blade has some general age wear to both sides that is consistent with it being in a saltwater environment.  There are also a few minor nicks to the leather of the scabbard but it is still robust and stable.  Blade length is 14 inches (18.5 inches overall).  I doubt whether you will come across another example of such an early Royal Navy dirk in a long time and for collectors of American Revolutionary War naval weapons, this is a rare find.
GOT ANY QUESTIONS?  PLEASE FEEL FREE TO E-MAIL ME AT: sales@militariahub.com
SOLD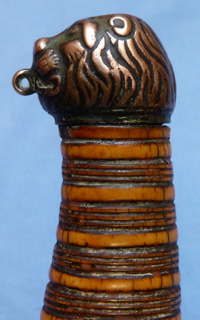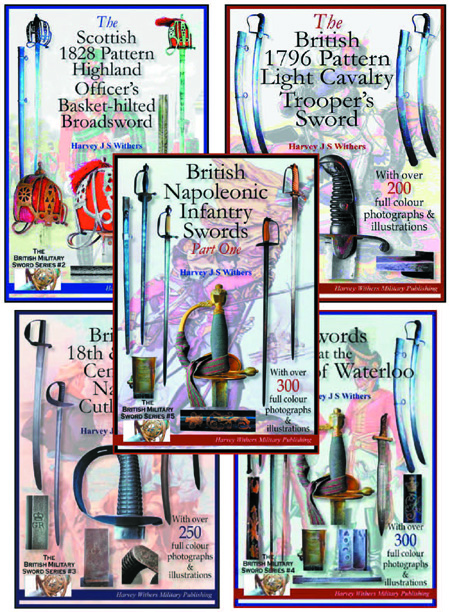 FULL COLOUR SWORD BOOKLETS
FOR THE COLLECTOR