A rare and superb 1814 Dutch Napoleonic Silver-hilted Infantry Officer's Sword
This is a rarely encountered Dutch Infantry Officer's Sword with a solid silver hilt, chequered ebony grip and inset silver lozenge.  The knucklebow is deeply stamped with silver hallmarks that indicate a date of 1814 – please see this link for images of Dutch hallmarks of the period – https://www.925-1000.com/Fnetherlands_Date_Code.html.  The pronounced letter "E" is identical to the Dutch hallmark for 1814.  Another good link is here – https://www.zilver.nl/zilverkeuren/find/page=40.html.   Also see image below of Dutch silver hallmarks for 1814 – they correspond to those on the knucklebow.  The shellguard is decorated with a recumbent lion.  The triangular blade has the remains of blue and gilt decoration and includes martial trophies, floral tributes and victory wreaths.  The sword comes complete with its original silver mounted and black leather scabbard that is missing its chape.  If you can source or craft a plain silver chape this would become a terrific piece – very few Dutch Napoleonic swords come onto the market and especially examples with silver hilts.  With original brass museum/collection tag to the hilt.
Condition of the Sword
Sword in good condition for its age – blade with some wear and fading to blue and gilt.  Scabbard missing the chape.
Specifications of the Sword
Blade length is 34 inches (39 inches overall).
GOT ANY QUESTIONS?  PLEASE FEEL FREE TO E-MAIL ME AT: sales@militariahub.com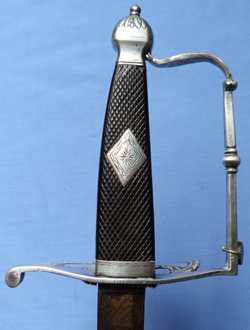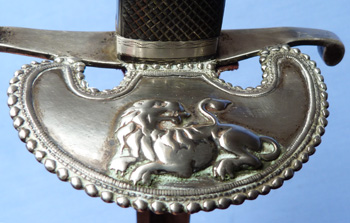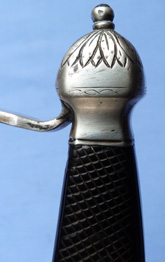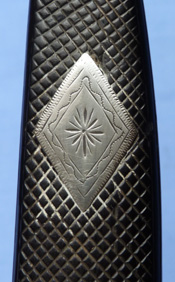 DO YOU COLLECT ANTIQUE SWORDS?
DO YOU WANT TO KNOW THE VALUE OF YOUR SWORDS?
IF SO, YOU NEED TO PURCHASE THESE FULL COLOUR BOOKS!!
CLICK IMAGES TO BUY YOUR SWORD BOOKS!!
QUALITY ANTIQUE SWORDS AND EDGED WEAPONS FOR SALE
Please take the time to look through my other listings of quality antique swords and edged weapons for sale at www.militariahub.com. 
I sell a wide range of interesting and historic pieces sourced from throughout the world and across all time periods, from the ancient to the modern world.  Stock is constantly changing so remember to keep checking back each week or subscribe to my weekly mailouts.
Look inside this web site for quality antique infantry swords, cavalry swords, naval swords, air force swords, smallswords, rapiers, scottish basket-hilted broadswords, medieval swords, hunting swords,  japanese swords, civilian swords, knives, dirks, daggers and kukris. 
IN FACT ANYTHING EDGED AND HISTORIC!