Irish Army Model 1927 Vickers Steel Helmet
This is an extremely rare Irish Army Model 1927 Vickers Steel Helmet issued to the newly created Irish Free State Army of the 1920's.  This helmet was based on the German Model 1916 Steel Helmet and it is extremely unusual in that the Republic gave the contract to the Vickers Company of Northern Ireland – a part of the United Kingdom and a former enemy.  Only 10,021 helmets were produced and most were subsequently crushed by the Irish Army when constructing new barracks in the 1970's.  A very informative article on the history of the helmet can be found at https://www.frontiernet.net/~masullivan/vickers/Irish_Helmet.htm.  This example retains its orignal liner and is also named to a number of previous owners on the leather liner flaps.  It is impressed to the inside to the helmet with the Vickers maker's mark, production number and date of 1927.  The exterior of the helmet has been cleaned down to a green/gun metal finish and the interior of the helmet retains the original white paint finish that was applied during WW2.  The helmet has two brass lugs to the front where a state badge would have been affixed.  These are even rarer to find than the helmets but if you can locate an original example, it would make this helmet a fine and highly collectable piece.
Condition of the Helmet
In good overall condition with appropriate service and age wear.  NOTE:  Ignore the white patches to photos – caused by the camera – finish is even over the helmet.
Specifications of the Helmet
Looks to be a medium-large size.
GOT ANY QUESTIONS?  PLEASE FEEL FREE TO E-MAIL ME AT: sales@militariahub.com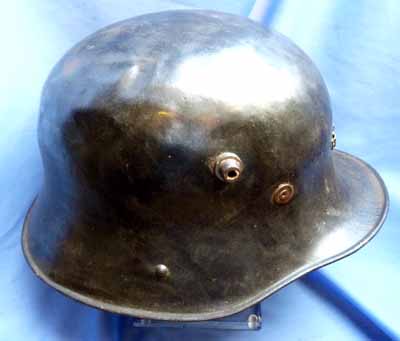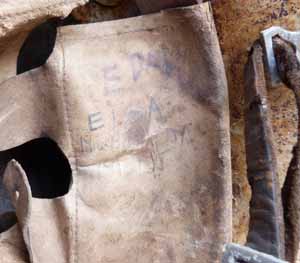 DO YOU COLLECT ANTIQUE SWORDS?
DO YOU WANT TO KNOW THE VALUE OF YOUR SWORDS?
IF SO, YOU NEED TO PURCHASE THESE FULL COLOUR BOOKS!!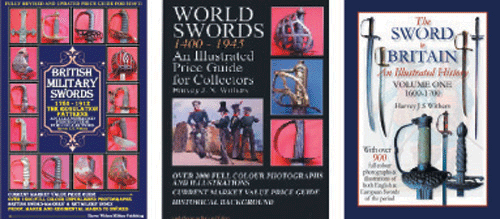 CLICK IMAGES TO BUY YOUR SWORD BOOKS!!