FREE WORLDWIDE SHIPPING
A good US Army WW2 Canadian Collins No.125 Machete  Knife of a type issued to Canadian Army troops during the war.  The Collins machete company was given the contract to supply machetes to Canadian forces during the war and these are not particularly common when compared to US Army issue examples. These military machetes would have been used in a wide variety of theatres of operation from the jungles and islands of the Far East to European military battlefields.  It was a very useful multi-purpose tool and would have been used for cutting down dense vegetation and other practical purposes.
Machete dated to 1945 and with Collins' makers' marks
The machete comprises a black composite riveted grip and typical flared machete blade, double-edged towards the end of the blade.  There is a hole in the pommel that would have held a leather thong for gripping when in the hand.  It is dated to 1945 and with Collins' company maker marks to the blade forte on one side.  No scabbard with this machete although it is likely to have been made with either a canvas or leather sheath.  With commensurate heavy wartime service wear to the blade.  No doubt these machetes would have been issued to a wide spectrum of military and civilian personnel and carried throughout the 2nd World War.  Blade length is 15 inches (19.25 inches overall).
GOT ANY QUESTIONS?  PLEASE FEEL FREE TO E-MAIL ME AT: sales@militariahub.com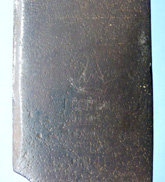 To see more antique US Machetes and Non-European swords for sale please click here
DO YOU COLLECT ANTIQUE SWORDS?
DO YOU WANT TO KNOW THE VALUE OF YOUR SWORDS?
IF SO, YOU NEED TO PURCHASE THESE FULL COLOUR BOOKS!!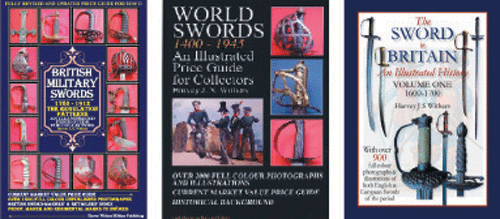 CLICK IMAGES TO BUY YOUR SWORD BOOKS!!