A scarce example of a Scottish Napoleonic Infantry Flank Officer's Sword.  This sword would have been carried throughout the Napoleonic Wars and is of a type that was copied from contemporary cavalry officers' swords in that it has a stirrup hilt and curved blade - in fact the infantry officers' swords were actually far more curved than the cavalry swords to the point where the appear to be quite impractical in the field of battle.  This example is not too curved and would have had some effectiveness when used in the field.
Edinburgh sword maker George Hunter
It has a blue and gilt blade that has now faded but still shows some colour in places and is maker marked to George Hunter and Co of Edinburgh (1797-1822) who supplied officers' swords to Scottish infantry regiments during this period.  Is rare to find a sword from this maker - this is the first that I have ever come across.  The sword still retains some of its original blue and gilt decoration now faded.  Some light wear to the blade in places.  Comes complete with its original brass scabbard (missing mouthpiece) and carrying chain.  Blade length is 24 inches (29.5 inches overall).  A hard to find piece for the collector of Scottish Napoleonic swords.
GOT ANY QUESTIONS?  PLEASE FEEL FREE TO E-MAIL ME AT: sales@militariahub.com
SOLD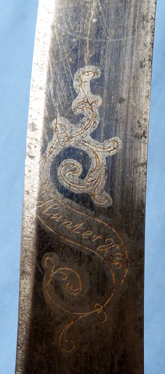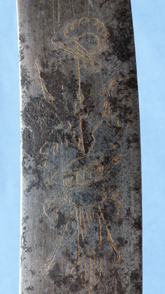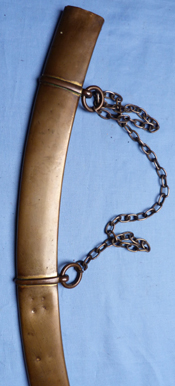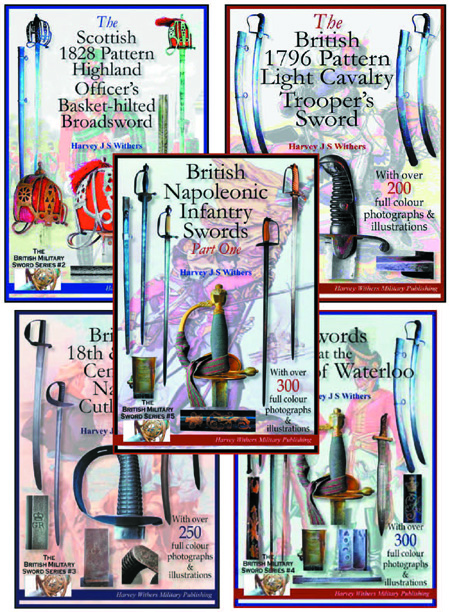 FULL COLOUR SWORD BOOKLETS
FOR THE COLLECTOR