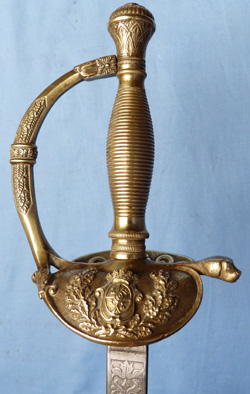 A good example of a Spanish Model 1867 Infantry Officer's Sword.  This sword is dated to 1880 and was made in Toledo, Spain.  It has an elaborately decorated blade that comprises a series of floral motifs and etched panel with "FABRICA TOLEDO 1880".  Toledo, Spain was the centre for sword making in the country and had gained  over many hundreds of years, an enviable reputation for producing high quality swords and edged weapons.  Some of the finest rapiers were made in Toledo and the city name can be found engraved on countless blades of the 16th and 17th centuries.
Royal coat of arms of the House of Spain
The sword has a cast brass hilt with a grooved brass grip and a shell guard featuring the coat of arms of the royal House of Spain surrounded by a laurel wreath.  The royal coat of arms is repeated on the scabbard frog button.  Condition of the sword is pretty good with only light staining in places to the blade - some wear to the back of the leather and brass mounted scabbard.  Blade length is 30.5 inches (36 inches overall).
GOT ANY QUESTIONS?  PLEASE FEEL FREE TO E-MAIL ME AT: sales@militariahub.com
SOLD