An excellent and original British 1796 Pattern Light Cavalry Trooper's Sword.  This iconic British military sword was carried throughout the Napoleonic Wars and used in such famous battles as Salamanca(1812) and Waterloo (1815).  It comprises a steel stirrup hilt with a leather bound grip - the leather is original to the grip.  The sword has a large and wide hatchet-type blade that is maker marked on the blade spine to Runkel of Solingen, German.  John Justus Runkel was a native German sword importer who made his home in England and arranged the importation of large numbers of swords and sword blades into England during the Napoleonic Wars.
Effective slashing and cutting sword
This is one of those imported swords.  As with most of his swords, the quality of manufacture is very high and it would have been a very effective slashing and cutting sword whilst used on horseback.  The blade is in fine condition with a lovely smooth patina.  The blade is also stamped with a British Board of Ordnance crown and number, indicating that it had been approved by government inspectors.  Both blade and hilt are rock solid and with no movement.  A great addition to any collection of British Napoleonic swords.  Blade length is 32.75 inches (37 inches overall).
GOT ANY QUESTIONS?  PLEASE FEEL FREE TO E-MAIL ME AT: sales@militariahub.com
SOLD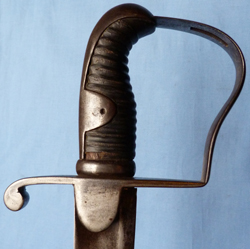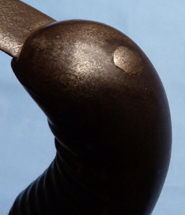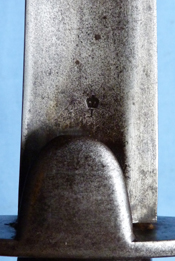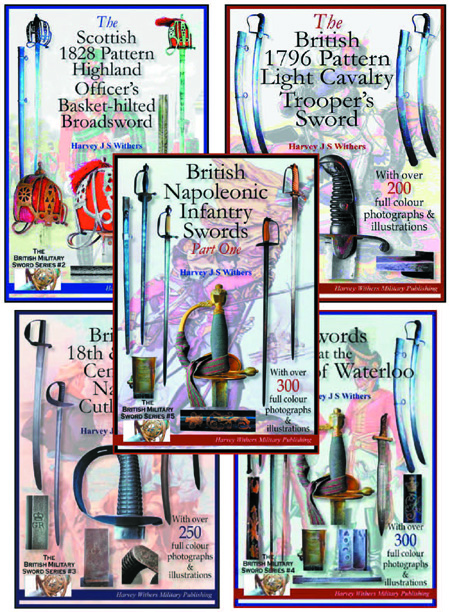 FULL COLOUR SWORD BOOKLETS
FOR THE COLLECTOR