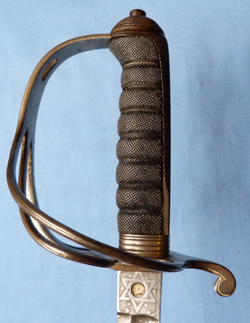 A scarce Scottish C.WW1 Lowland Artillery Officer's Sword.  This sword follows the 1821 Pattern Artillery Officer's Sword and comprises a steel, nickel-plated three-bar hilt with a fishskin grip wrapped in silver twistwire - some missing.  The blade was retailed by Hobson and Sons of London and is etched with the regimental name - 3rd Lowland Brigade RFA (Royal Field Artillery).  This regiment was prior to WW1 known as the Ayrshire and Galloway Royal Garrison Artillery (Volunteers).  The Royal Field Artillery was attached to a Division and provided medium calibre ordnance.
Blade with artillery motifs
The sword is also etched with typical Royal Artillery motifs including lightning bolts, flaming grenade, scrolling foliage and also the owner's initials which I have not deciphered to date.  At some stage the bade has been sharpened which has removed some etching to the edge of the blade.  Comes complete with leather scabbard.  Blade length is 34.5 inches (41 inches overall).
GOT ANY QUESTIONS?  PLEASE FEEL FREE TO E-MAIL ME AT: sales@militariahub.com
SOLD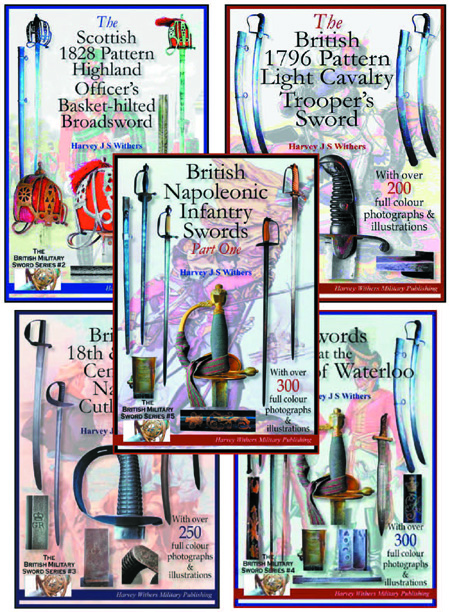 FULL COLOUR SWORD BOOKLETS
FOR THE COLLECTOR